Boucle' you are changing....Goodbye TWA(Teeny Weeny Afro)
Well, I think my hair is growing out of that TWA stage. My hair has new demands now..like..
1. De-tangling more since the longer my hair is getting, the more knots I am having, so that means combing twice a week instead of once a week when I had a TWA.
2. Boucle' is getting fairy knots!!!-How the hell this happens?? No damn clue!!!-but I have to...got to.... moisturize my hair more than usual.. but now...I am braking out like crazy!! now I have to figure something else out...
3. Boucle' cannot stand product bulid-up..so I have to use a cheap clarifying shampoo for my hair once a week...at least or she will bitch and make my scalp itch.
I am going to miss having a TWA. It is quite of a adjustment changing my routine a but to accommodate everything but I am loving this journey!!
Slowly saying goodbye to this..
and slowly growing into this...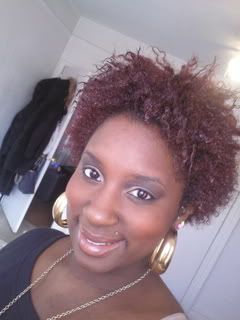 and what might happen...no clue!!
but i'll let you ppl know...
Gotta go but come back now!!!