Like I said, I was going to try out the lipstick and lipgloss that I bought at Jack's 99 cent store... and I have pics...
Recall:It was the Nicka K Lipglass in Grape and Nicka K Lipstick in Tango..
I love this brand by the way....even though it is cheap as hell.. It glides on very smooth and it smells like blueberries and grape.. Will purchase many more times..
Here are the pics with a shimmery gold/copper eye... Black eyeliner on lid nd waterline...
Simple but pretty...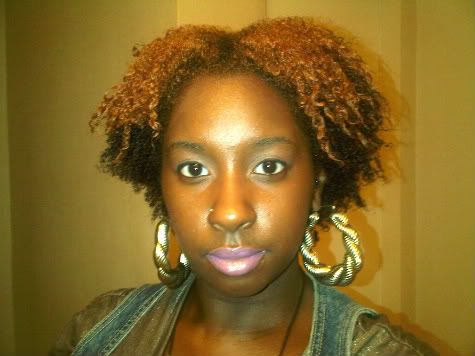 I also did a wash and go with my hair... Here is what I used...
Organix Vanilla Shampoo, a Mixture of Suave, Herbal Essenses, and Garnier Fruitis conditioner...(Yes I love mixing conditioners up), Kinky Curly's Knot Today.. and Eco-Styler Olive Oil Styling Gel... and shook my head like a dog, part it down the middle a bit and that's about it... Love it
Well, I gotta go.. since I am at work.. Might as well get productive..
See Yah!!